Our Monthly Readers' Contest!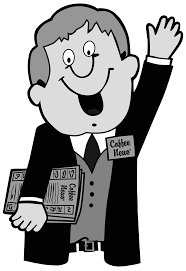 Enter our "Find the Coffee News® Guy" contest for a chance to win monthly cash or prizes. Each week our little Coffee News® Guy is hiding in one of the ads.
To enter the contest, find a local edition of Coffee News in one of our many distribution locations (this list will be available soon) and then complete the entry form below. One winner will be drawn monthly. (One entry per household, per week.)
Your information will not be shared or sold to anyone.